Travel
The 20 Best Hotels in Nigeria Today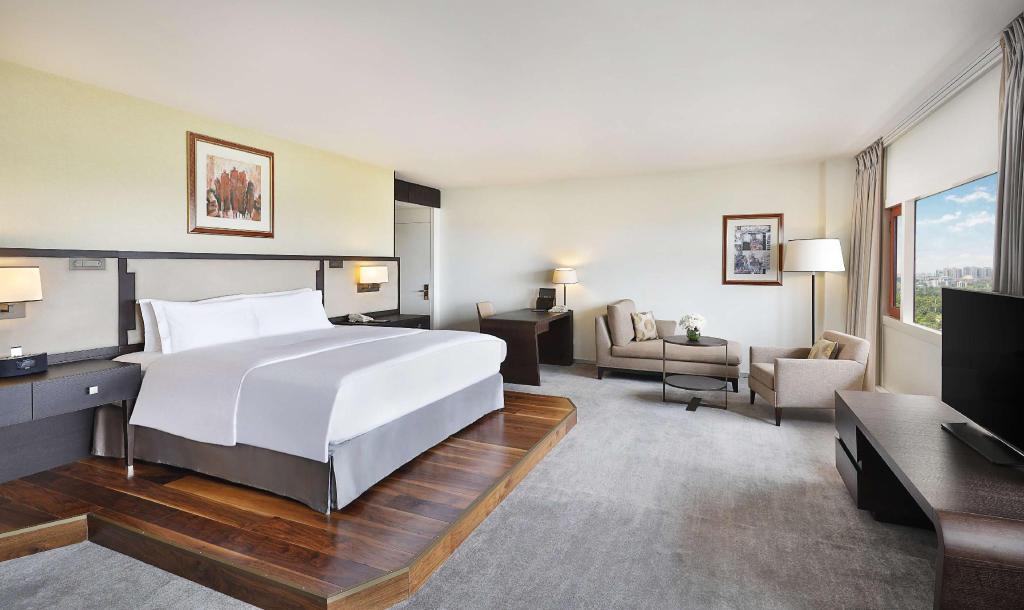 Whether you're looking for a luxury hotel in Lagos, Abuja, Portharcourt, or Owerri, or you want to stay close to the beach, there are plenty of hotels to choose from in Nigeria. You can stay in luxurious Transcorp Hilton, Sheraton, or Four Points by Sheraton, or find a budget hotel that is clean, safe, and convenient.
In this article, we look at the best hotels in Nigeria to lodge while on a vacation or business visit.
The 20 Best Hotels in Nigeria Today
1. Transcorp Hilton Hotel, Abuja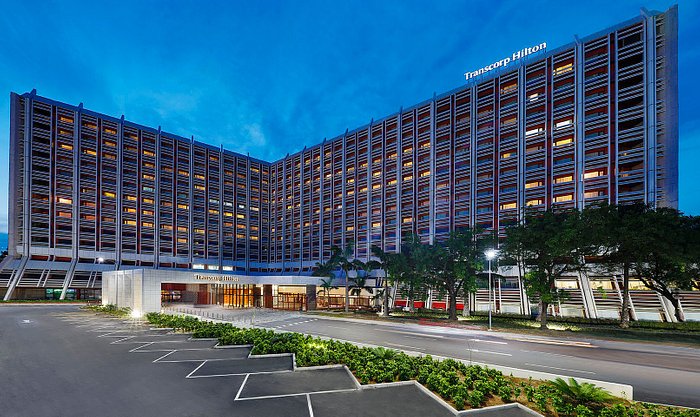 Transcorp Hilton is one of the best hotels in Nigeria.  It is a 5-star hotel located in Abuja, the federal capital territory. The hotel is open 24/7, located in the Maitama district of Abuja. It is a luxurious hotel with lots of amenities such as a bar, restaurant, fitness center, etc. The security at the hotel is excellent, with great customer support. If you want to lodge at the best hotel while on vacation in Nigeria, you can consider Transcorp Hilton Abuja.
Address: 1 Aguiyi Ironsi St, Maitama, Abuja.
2. Eko Hotel and Suites, Lagos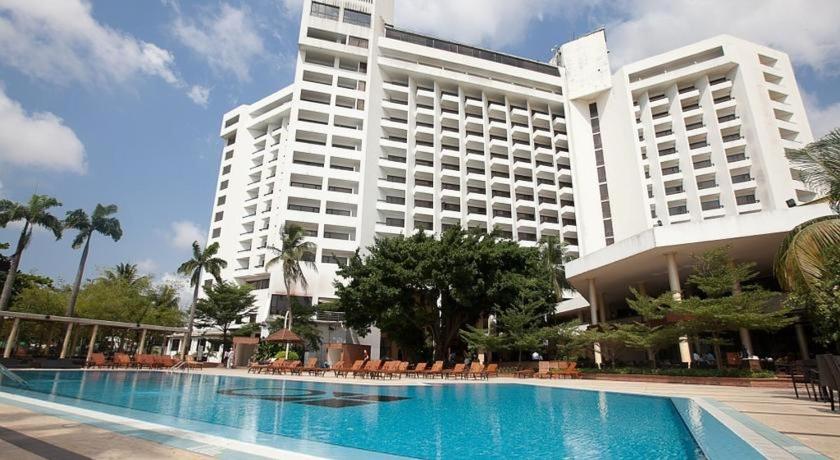 If you're looking for a luxurious place to stay in West Africa, look no further than the Eko Hotel and Suites. It is one of the best hotels in Nigeria. Its central location on Victoria Island makes it a practical choice for many.
In one of the 824 apartments, you can take pleasure in a fusion of African customs and the highest levels of modern luxury and comfort. Several diners and bars are available to guests, each offering a unique culinary experience.
Address: Plot 1415 Adetokunbo Ademola Street, Victoria Island, Lagos state.
3. Abuja Continental Hotel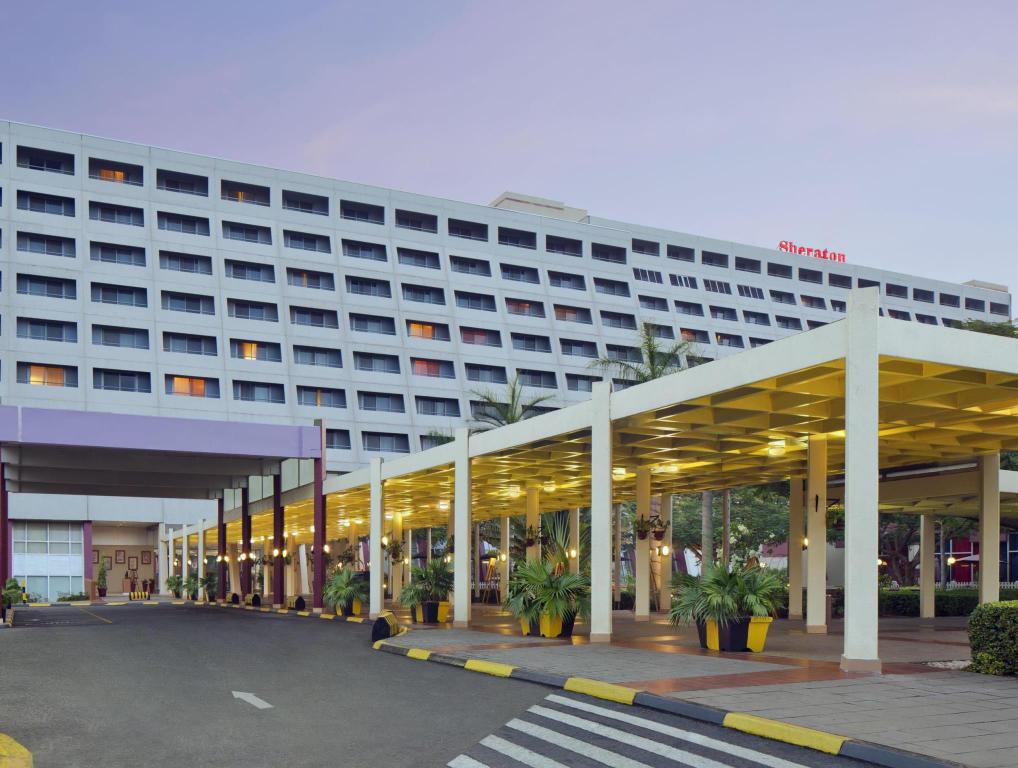 Located in the heart of the Federal Capital of Nigeria, the Abuja Continental Hotel, formerly known as Sheraton Abuja hotel, is a sophisticated 4-star hotel with luxurious accommodations and an array of amenities. Guests can take advantage of a business center, fitness facilities, and a tennis court. The hotel also offers a restaurant and bar.
This hotel is located within a 30-minute drive of the airport. It is a modern twelve-story hotel in the city center and offers conference space. It is close to the National Assembly and Millennium Park. The rooms at this hotel are equipped with wireless Internet access and flat-screen TVs. The rooms also come with a bathroom, bathtub, and separate toilet.
Address: Ladi Kwali St, Wuse, Abuja.
4. Hotel Presidential, Port Harcourt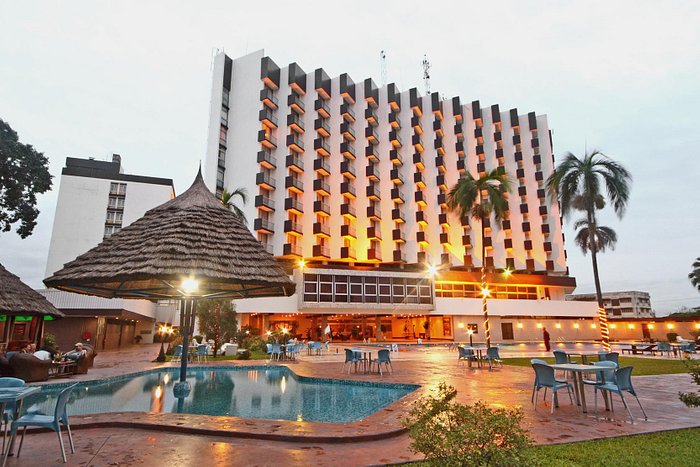 Port Harcourt, the state capital of Nigeria's Rivers State, is home to the Hotel Presidential. This hotel is one of the finest in all of Nigeria. A short distance from Port Harcourt Liberation Stadium and less than an hour from the international and domestic airports along the Ph-Aba expressway. This hotel's convenient location makes it a top pick for both vacationers and businessmen. The 241 guestrooms and 53 luxurious suites attest to the hotel's five-star status with their upscale furnishings and modern conveniences.
Address: I Birabi Street, Port Harcourt – Aba Expressway, Port Harcourt, Rivers state.
5. Lagos Oriental Hotel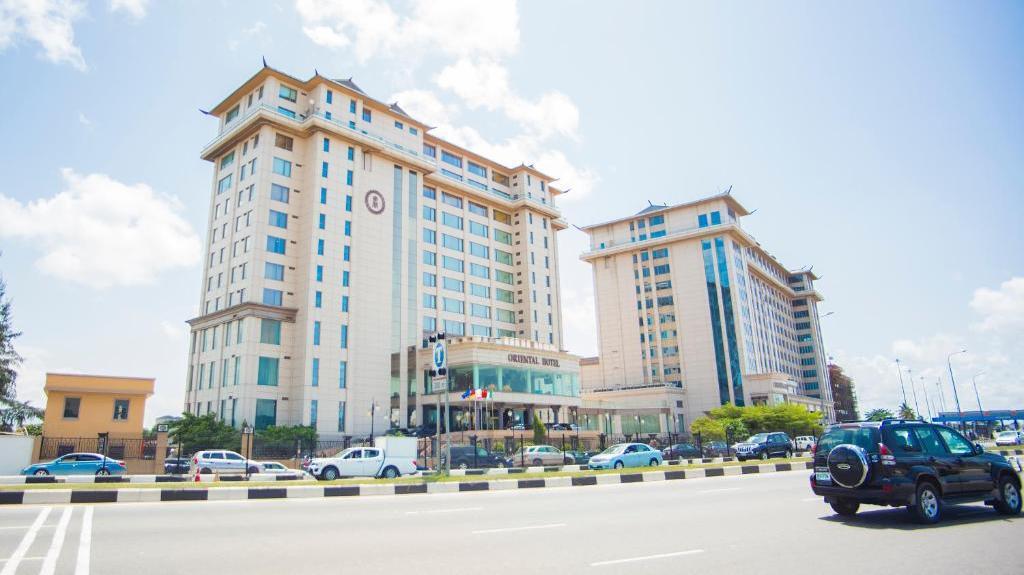 If you want to be in the center of Lagos, the Lagos Oriental hotel is a great option. It is one of the best hotels in Nigeria. The 73 guestrooms feature a contemporary design that is complemented by artwork and refined furnishings, creating an atmosphere that is equal parts luxury and energizing modernity.
Thanks to the onsite facilities, large gatherings, conferences, and parties can all be catered to. A Japanese Gourmet Restaurant, a Chinese Restaurant, and a Lobby Lounge & Bar are all available for your dining pleasure.
Address: 3 Lekki – Epe Expy, Victoria Island, Lagos state.
6. Ibom Hotel and Golf Resort, Uyo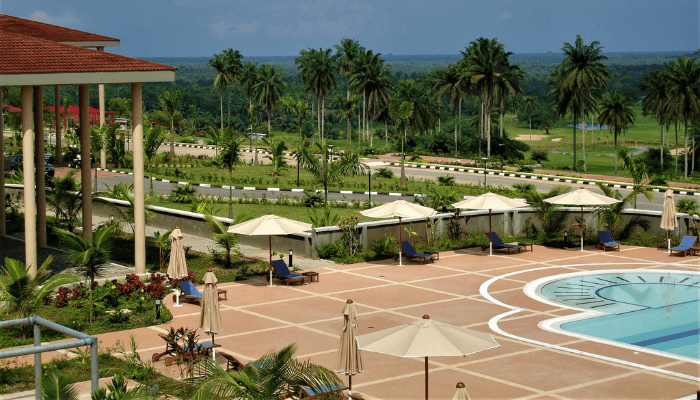 In the heart of Uyo, Akwa Ibom State, among the swaying palm trees, you'll find the Ibom Hotel and Golf Resort, one of the best hotels in Nigeria, with a warm and inviting retreat. Visitors can relax in modern comfort while surrounded by an authentic environment in these chic apartments.
Every day, guests can choose from a variety of delicious meals, including both local and international favorites. A world-class 18-hole golf course, a lawn tennis court, a squash court, and a bike facility are all within walking distance.
Address: Nwaniba Road, PMB 1200, Uyo, Akwa Ibom State. 
7. Imo Concorde Hotel, Owerri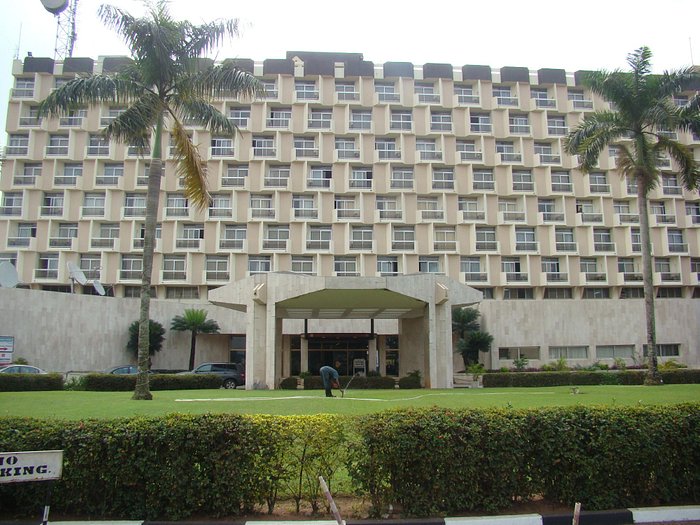 The Imo Corcode Hotel in Owerri is one of the best hotels in Nigeria. It is a comfortable and convenient choice for travelers. Each morning, guests can start their day off right with a free continental breakfast served from 7:00 AM to 11:30 AM. For other meals, the hotel has an onsite restaurant, a bar/lounge, and a coffee shop/cafe for guests to enjoy.
The rooms at the Corcode Hotel are well-equipped with modern amenities. Guests can stay connected with free WiFi and relax in front of the flat-screen TVs with satellite channels. The bathrooms are stocked with free toiletries and slippers for added comfort, and there are sitting areas, free newspapers, and laptop-compatible safes available in each room.
The hotel itself offers a range of convenient features for guests to enjoy. There is an outdoor pool on the property, as well as free WiFi in public areas and free newspapers. For those arriving by car, the hotel offers free valet parking. The front desk staffs are available 24/7 to assist with any needs, including luggage storage, access to locker space, and dry cleaning/laundry services.
Address: Ihitte Uboma, Concorde Ave, New Owerri, Owerri, Imo State.
8. Sheraton Lagos Hotel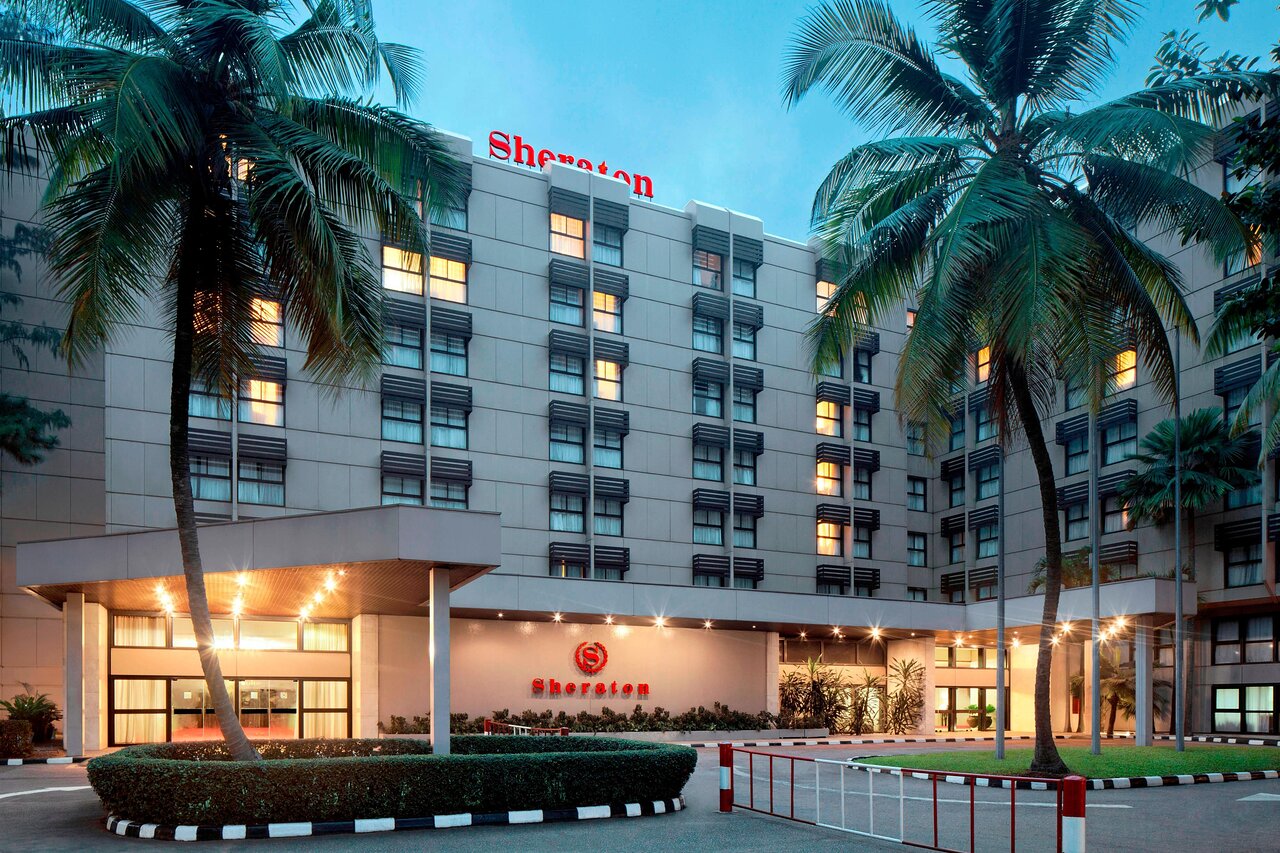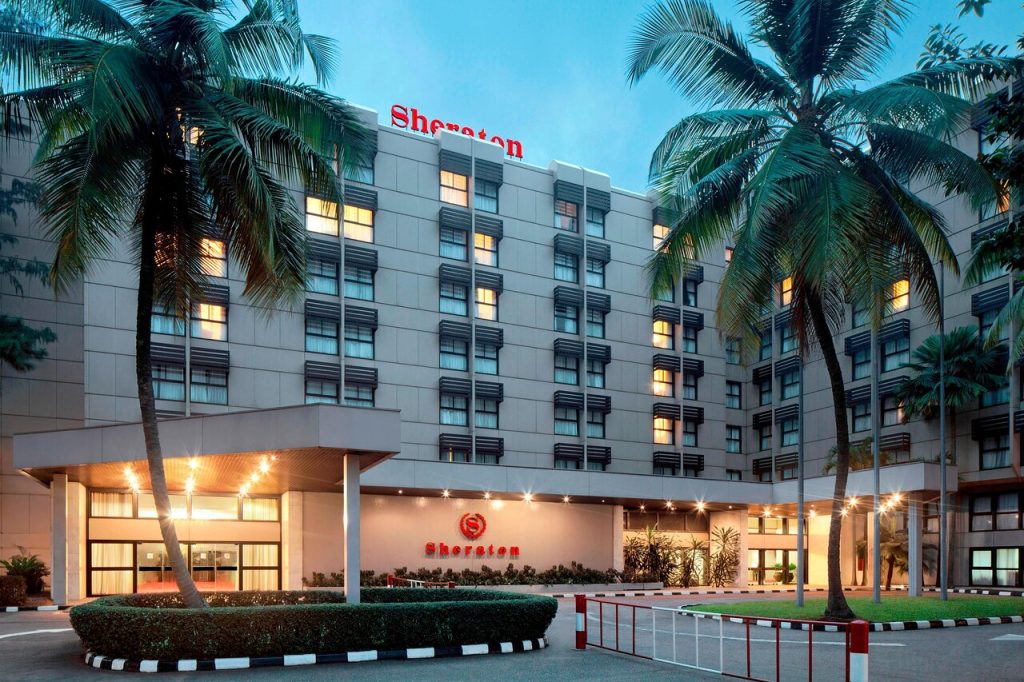 Located on Mobolaji Bank Anthony Way, Lagos, Nigeria, Sheraton Lagos Hotel is a 5-star hotel that offers comfortable accommodation and excellent services. This Nigerian hotel is a part of the Marriott International chain of hotels.
Sheraton Lagos is located close to various attractions, such as the Murtala Muhammed International Airport, Mega Plaza Century 21 Mall, Freedom Park, Ndubuisi Kanu's Park, and National Museum Lagos. Aside from being close to these places, it also has a pool bar and a restaurant that serves Italian cuisine. Guests can also enjoy outdoor tennis courts.
The Sheraton Lagos is one of the best hotels in Nigeria. It has a total of 337 guest rooms. Its interiors are a blend of modern and traditional styles.
Address: 30 Mobolaji Bank Anthony Way Ikeja, Lagos state.
9. Four Points by Sheraton, Lagos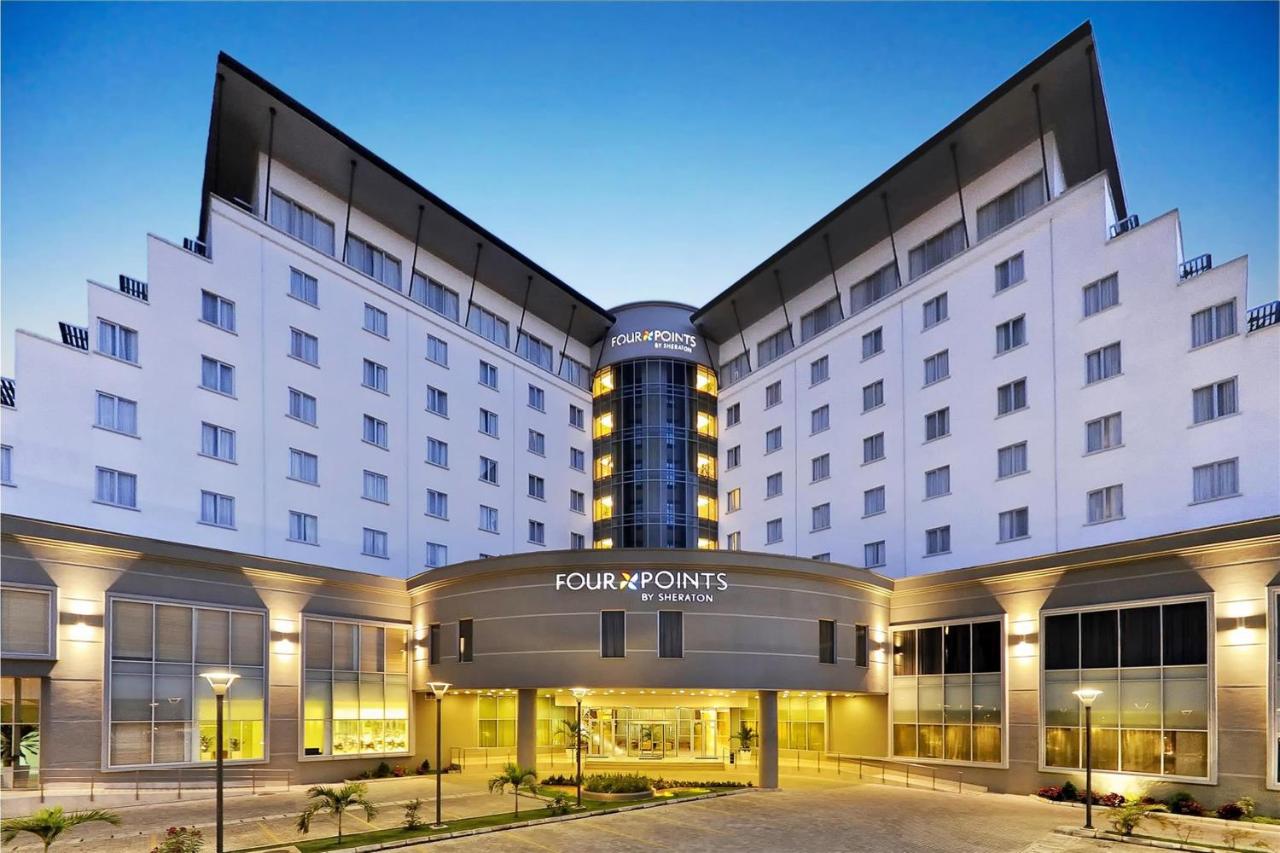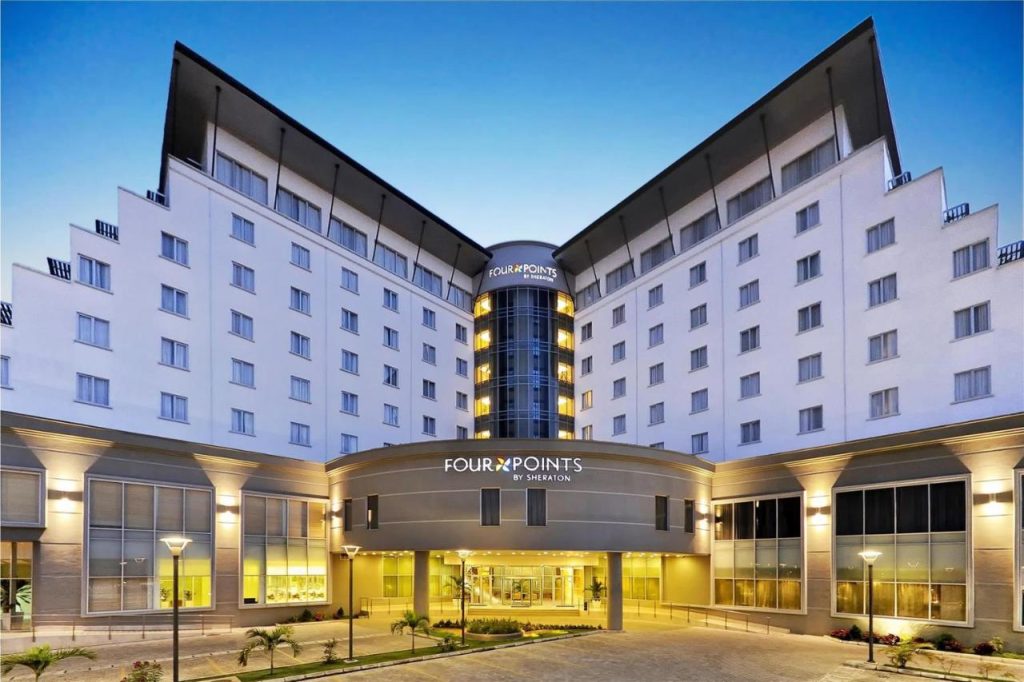 Located in the city of Lagos, the Four Points by Sheraton is a 5-star hotel that offers luxurious rooms and other services to travelers. It is a part of the Marriott hotel chain and targets business travelers. It is one of the top hotels in Nigeria.
The hotel also has a reception, theatre, and other amenities. It has attracted people from different countries and works of life. It has been awarded numerous awards. In addition, the hotel offers several dining options, including banquets. It has also earned the Trip Advisor Certificate of Excellence Hall of Fame recognition (2018). The hotel's facial therapies include full body exfoliation, which helps relax the customers.
Address: Plot 9/10 Block 2 Oniru Chieftaincy Estate, Victoria Island, Lagos state.
10. Lilygate Hotel Lagos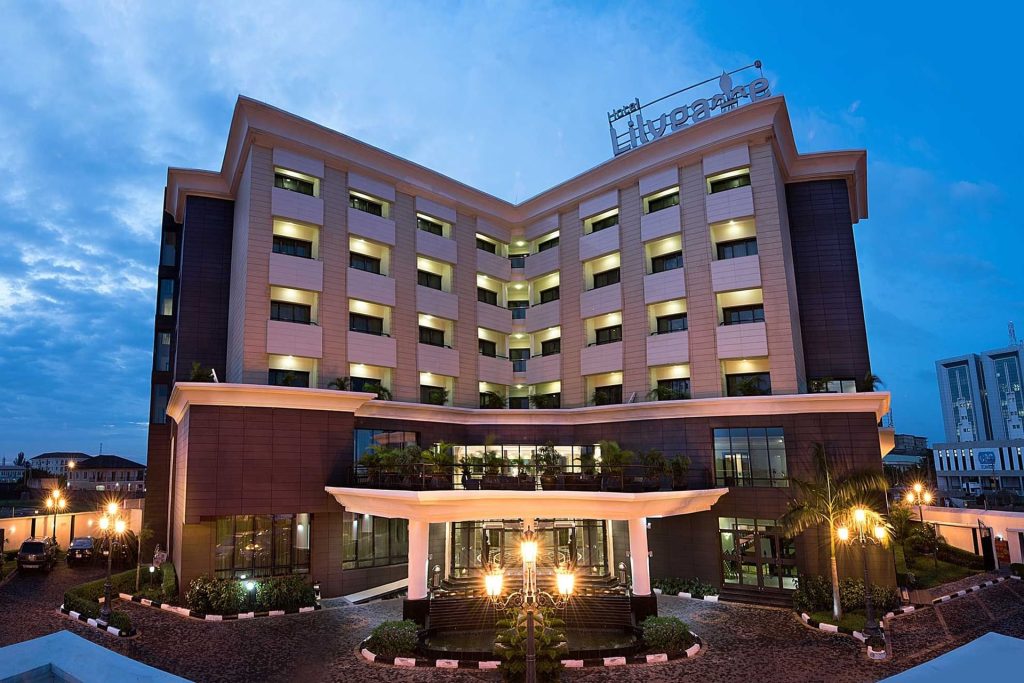 Located on the famous Victoria Island, Lilygate hotel Lagos is a boutique hotel that provides guests with a dazzling array of facilities. The hotel features a full-service restaurant, fitness center, and more. This hotel is also a great option for business travelers.
The hotel's restaurant serves Nigerian food. The hotel is a few minutes away from a number of must-see sites in Lagos. It is also a great choice for family travel.
Address: 2 Olubunmi Owa Street, off Admiralty Way, Lekki Phase 1, Lagos state.
11. Ogeyi Place Hotel, Port Harcourt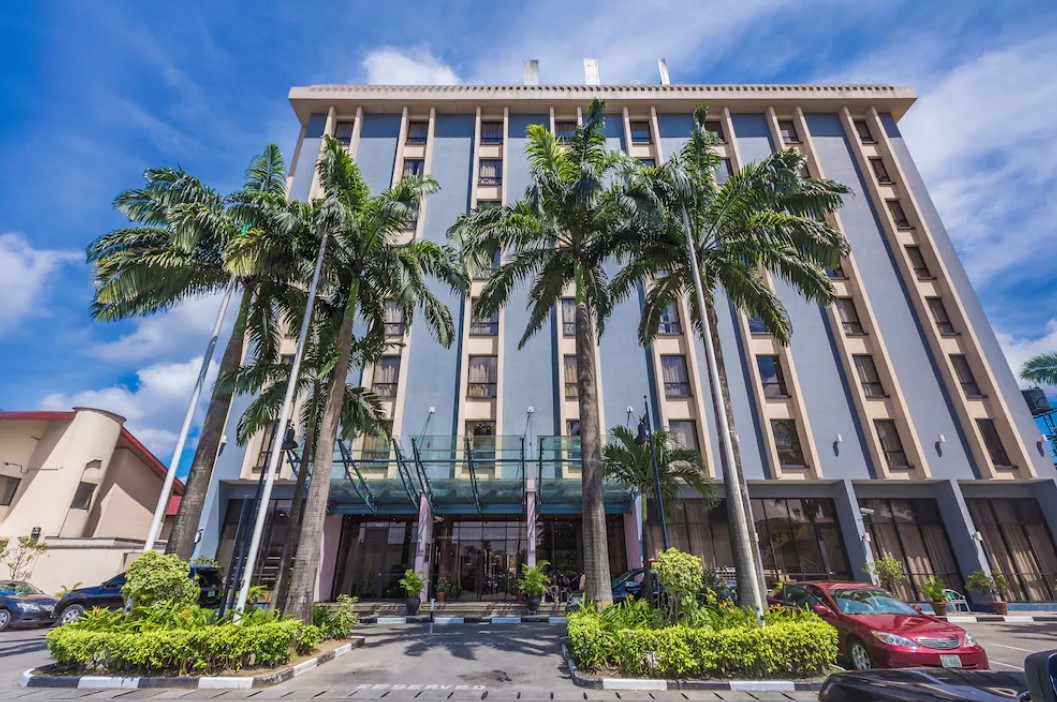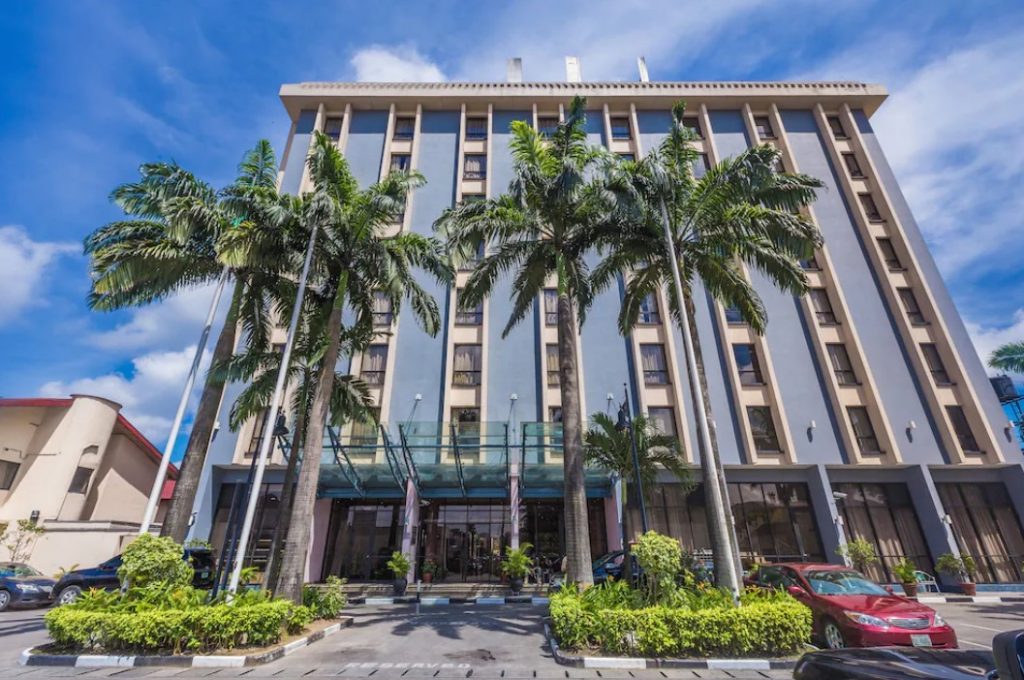 Ogeyi Place hotel is a 4-star luxury hotel located in Port Harcourt. It is one of the top hotels in Nigeria. The hotel offers luxurious rooms with modern amenities. The hotel is close to major government institutions and entertainment centers.
The hotel has 86 well-appointed rooms, each featuring a stylish interior. These rooms have modern amenities such as cable television, bathrobes, hypo-allergenic premium bedding, and City View. There are a variety of room types, including Deluxe, Diplomatic, and Presidential Suites. The hotel also has a breakfast lobby and an on-site spa.
Address: Phase 11 G.R.A, 45 Tombia St, Umueme, Port Harcourt, Rivers State.
12. The Yacht Hotel, Lagos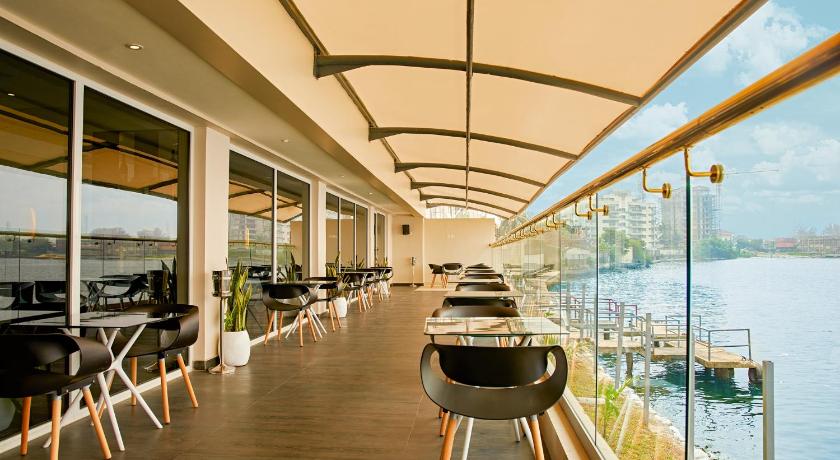 Located in the Lekki Phase 1 district, the Yacht Hotel offers a lot of amenities. These include a bar, a fitness center, and a restaurant. The hotel also provides a free airport shuttle service. It is one of the top hotels in Nigeria.
The hotel features a standard outdoor pool, an indoor pool, and an in-house gym. It also offers room service and concierge services. The hotel has a rooftop bar. The rooms have a flat-screen television, a work desk, and a minibar. Guests can also request for dry cleaning.
Address: 17 Admiralty Rd, Lekki Phase 1, Lagos state.
13. Adis Hotel, Ibadan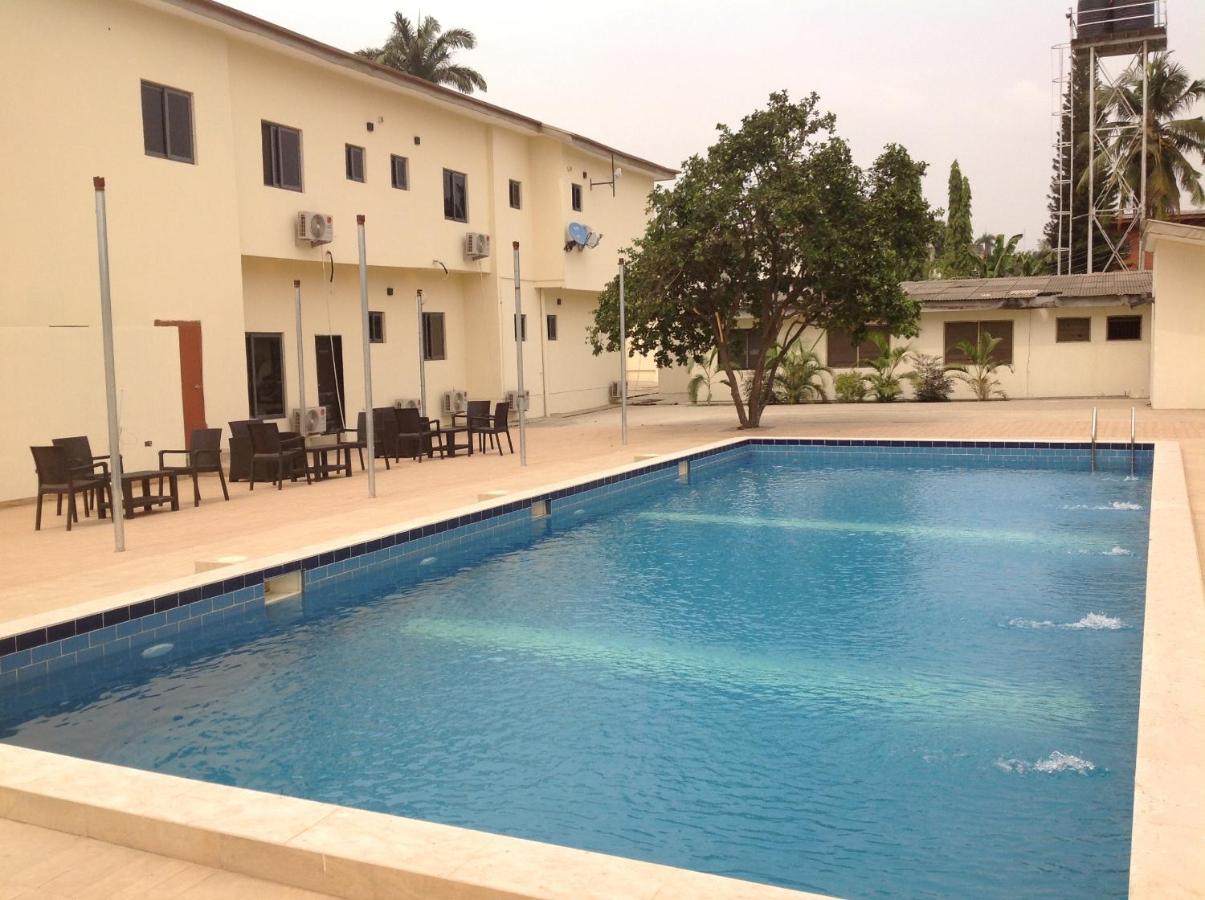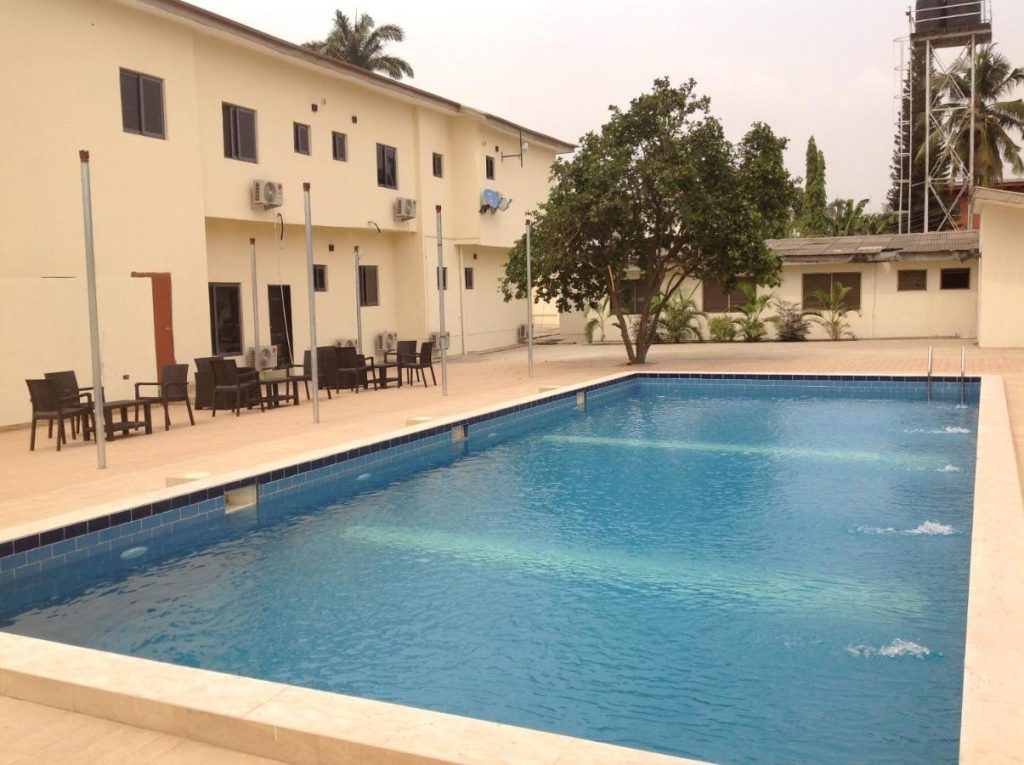 The Adis Hotel is a great place to stay in Ibadan, one of Nigeria's busiest cities. The hotel has an outdoor garden terrace with palm trees and potted flowers, and the helpful staff will see to your every need, whether it's a plate of chicken escalope at the ramshackle restaurant or clean sheets for your plush memory foam mattress. All of the rooms have been freshly painted a bright white and have tiled floors for comfort.
Address: 1 Akinsehinwa Street, Ibadan, Oyo state.
14. Mayhill Hotel, Lagos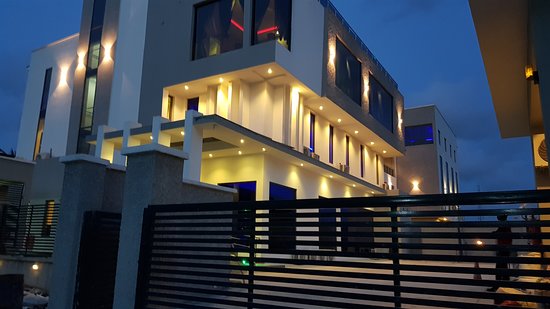 The Mayhill's mood lighting, which glows in blue, red, and purple tones, adds a sleek modern atmosphere to this Lagos building, a plus for disco-loving night owls. The hotel's traditional rooms, which feature crisp white sheets and red pops are a great place to unwind after a night out, but the expansive event spaces and onsite fine-dining restaurant make it a top choice for business travelers as well. The Sky Bar, an outdoor area with views of the city, is a popular place to enjoy sundowners. The hotel is one of the top hotels in Nigeria.
Address: 14 Muritala Eletu Way, Lekki Peninsula II, Lagos state.
15. Ajuji Greenwich Hotel, Abuja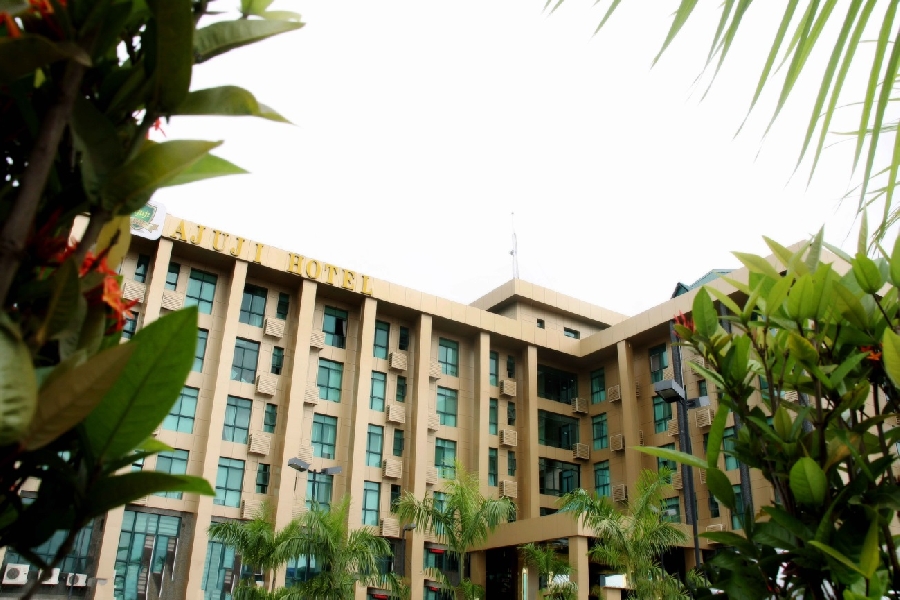 The Ajuji Greenwich Hotel is one of the finest accommodations in all of Abuja and one of the best hotels in Nigeria. It exemplifies the best of hospitality and the pursuit of providing visitors with something truly memorable. Centrally located in Northern Nigeria. It has 104 luxurious rooms with first-rate amenities, luxurious mattresses, and soothing decor.
Address: Plot 1083 Joseph Gomwalk St, Gudu, Abuja.
16. WheatBaker Hotel, Lagos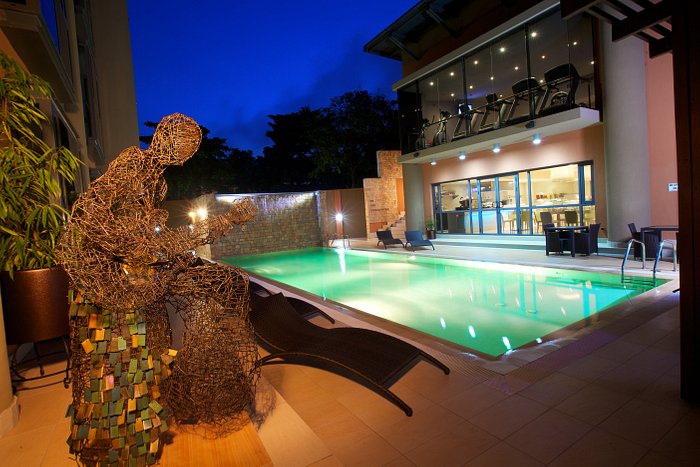 Visitors to Lagos often choose to stay at the Wheatbaker Hotel, one of the top hotels in Nigeria,  whether their stay will be for business or pleasure. The hotel provides a variety of amenities for guests' convenience. The hotel provides a variety of amenities, including 24-hour room service, free Wi-Fi in public areas, a car park, an airport shuttle, and a restaurant.
Address: 4 Lawrence Rd, Ikoyi, Lagos state.
17. Bristol Palace Hotel, Kano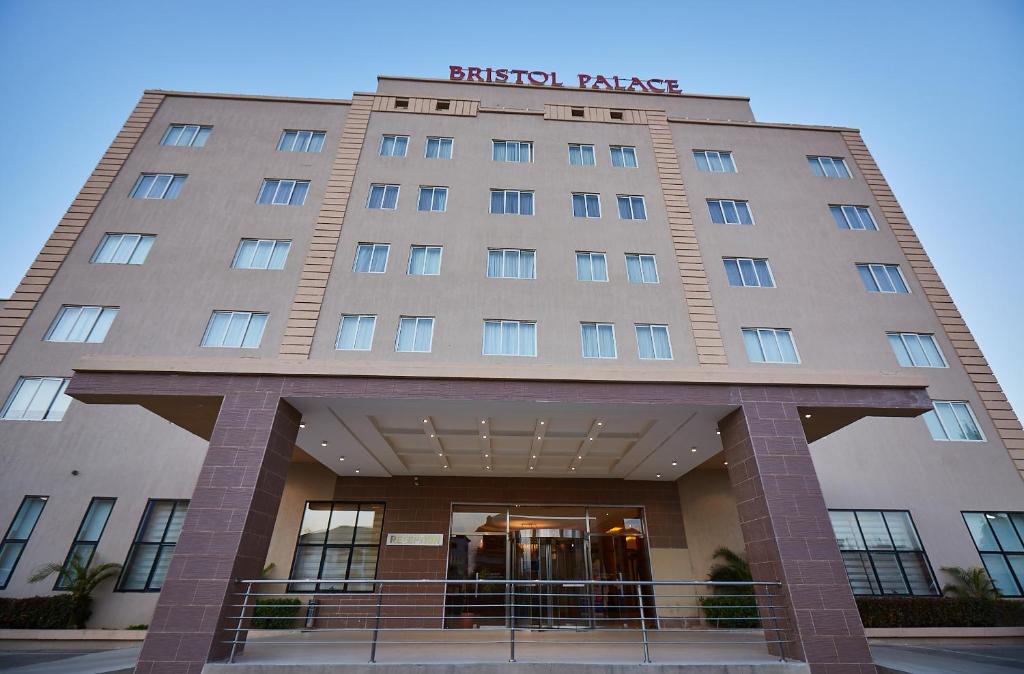 The Kidan Makam Museum is 3.5 kilometers from the Bristol Palace Hotel in Kano and one of the best hotels in Nigeria, and the Old Wall skywalk is 2.7 kilometers away. It offers a fitness center and an outdoor pool for its guests. Each room has a flat-screen tv Service, refrigerator, tea kettle, bathroom with shower, and work desk.
Address: 54-56 Guda Abdullahi Road, Kano.
18. Lagos Continental Hotel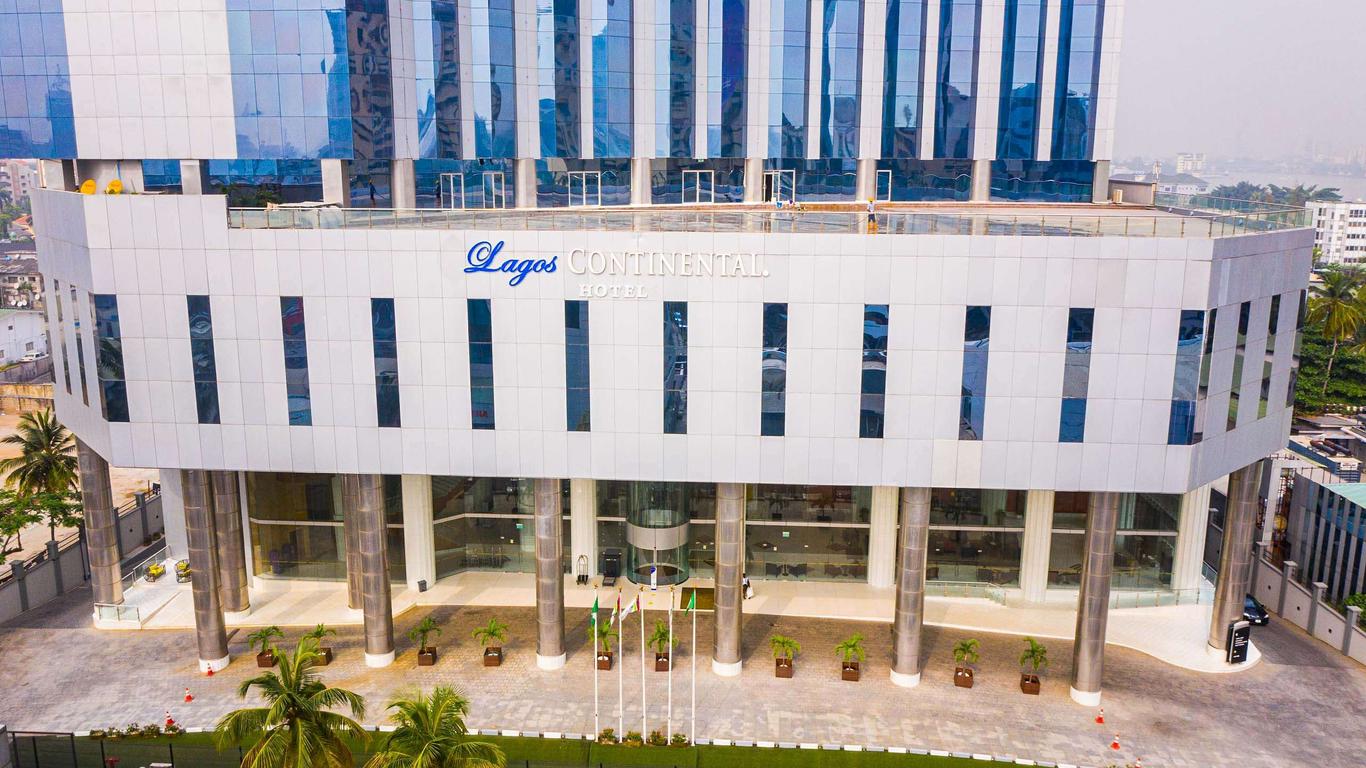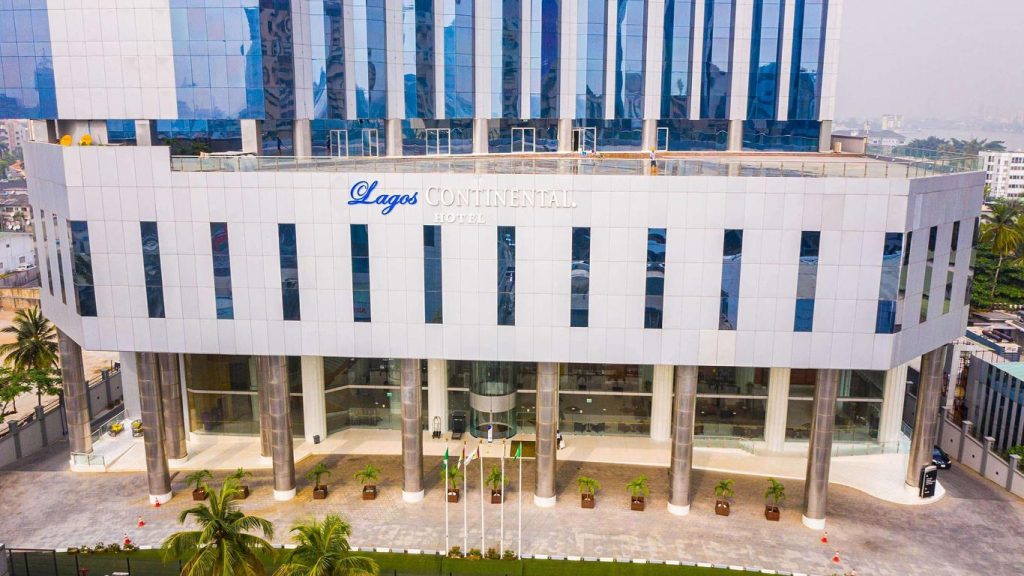 A trip to Muritala Muhammed International Airport from Lagos Continental Hotel takes only 29 kilometers. Embassies, museums, recreational facilities, shopping centers, and malls are all within easy driving distance. The hotel's Grand African Ballroom, measuring 1,400 square meters, and its six meeting rooms provide an ideal setting for conferences, weddings, concerts, and other events. The hotel also features six restaurants and bars serving American, European, and Asian fare. It is one of the best hotels in Nigeria.
Address: 52a Kofo Abayomi St, Victoria Island, Lagos state.
19. The George Lagos Hotel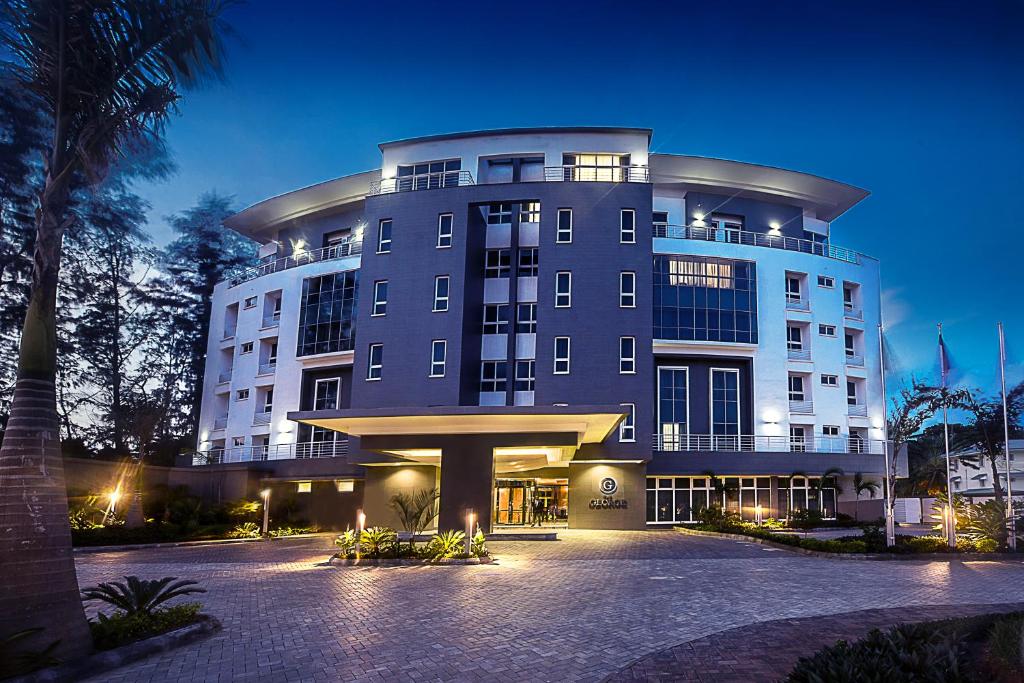 Located at 30 Lugard Avenue in Ikoyi, the George Lagos Hotel opened its doors to the public in July 2015. Located on a quiet, upscale street in Ikoyi, The George is a unique and upscale boutique hotel. It is one of the best hotels in Nigeria.
If you're a business traveler looking for a hotel with a bit more privacy and a great location, this is the place for you. All rooms at The George are equipped with private bathrooms, ranging from traditional styles to luxurious penthouse suites, each with high-end fixtures and amenities.
Address: 30 Lugard Ave, Ikoyi, Lagos state.
20. Monty Suites Calabar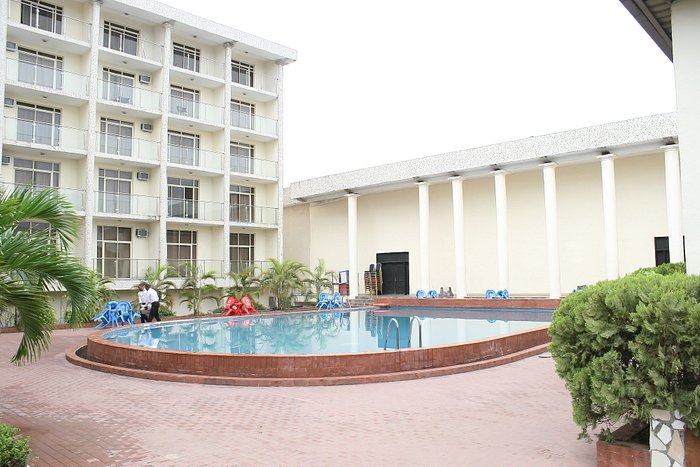 The Monty suites Calabar is one of the best hotels in Nigeria. The 3-star hotel features a  lounge, and each room has air conditioning, free WiFi, and a private bathroom. There is a 24-hour front desk, in-room service, and a place to store bags if you need to check out early. Monty suites hotel provides seating areas in all of the rooms. Each room has a safe, and some even have views of the pool.
Address: Northern Industrial Layout, behind Zone Six Police Headquarters Off Murtala Mohammed Highway, Esuk Utan, Calabar, Cross river state.
Conclusion
No matter what brings you to Nigeria — a chance to see alligators and monkeys in the rainforest of Osun-Osogbo Sacred Grove, or the challenge of climbing the granite spire of Olumo Rock, a site with spiritual significance — a stay at the best hotel in the area will elevate your experience there to the next level. Highlighted above are the top 20 hotels in Nigeria.
Go on… Explore!!!