Food
The 15 Most Popular Korean Seafood Dishes Today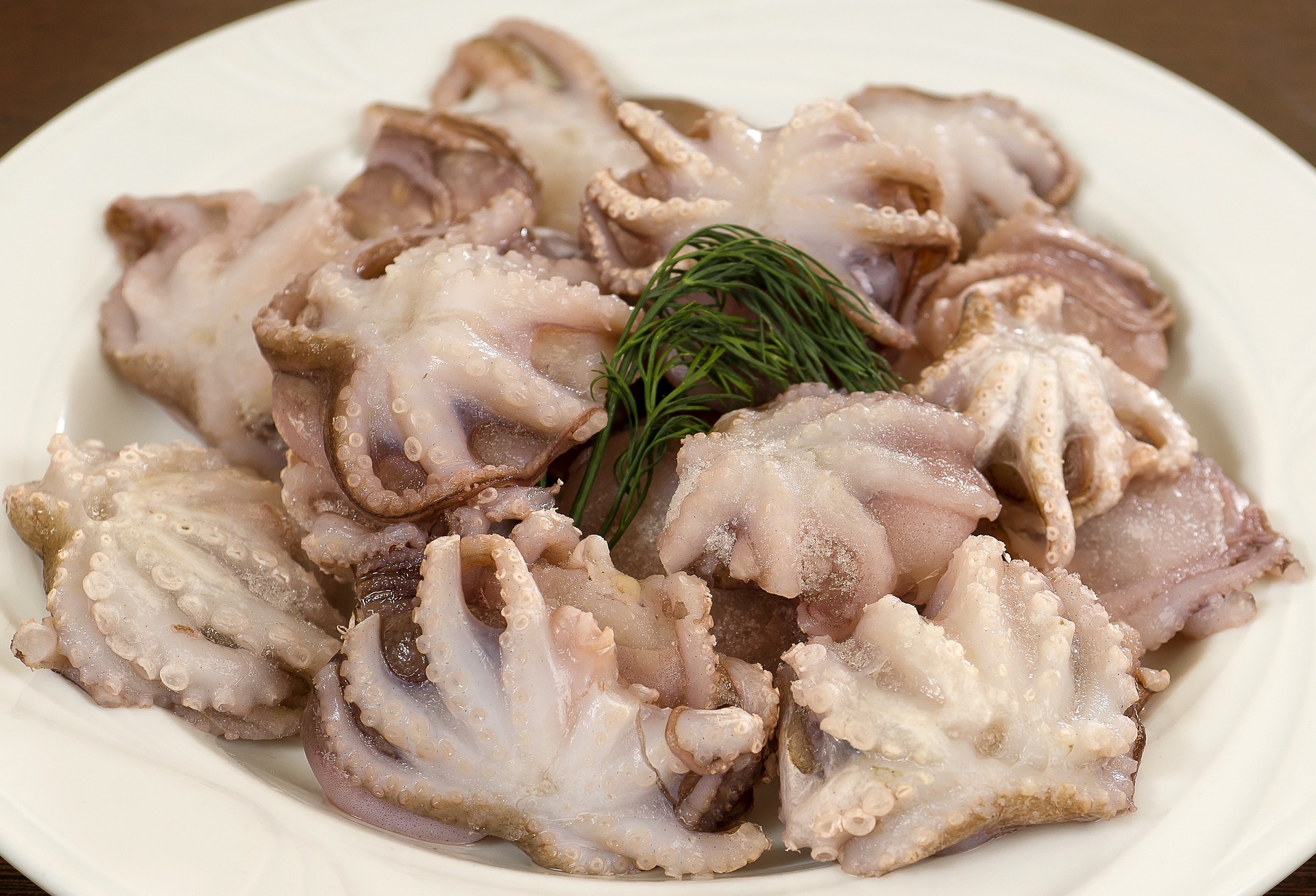 Are you looking for a new seafood recipe to make? Why not try Korean seafood? We've got some fantastic Korean recipes here for you to try out. It promises to relish your taste buds with all the savory it merits.
The large quantity of nutrients, minerals, and vitamins found in seafood makes it highly appreciated and consumed by seafood lovers worldwide. These nutrients, including niacin, thiamine, riboflavin, omega-3 fatty acids, and more, are of high health significance to the human body. 
With this in mind, in this article, we will share with you the 15 most popular Korean seafood dishes you can try. Ensure that you read till the end.
Why you should try out Korean seafood dishes
The Korean peninsula is very prominent for its location because it is surrounded by water on three sides. Hence, you will find different kinds of seafood in abundance there.
Here is why you should consider eating Korean seafood dishes:
Every Korean seafood is prepared from fresh and quality seafood.

The recipes are not complex to prepare.

Korean seafood contains minerals and vitamins that are beneficial to the body.
Every Korean seafood is prepared from fresh and quality seafood
Generally, Koreans are known to make cuisines from fresh seafood that had been caught within that day. Hence, seafood lovers enjoy quality seafood when digging those chopsticks into their cuisines.
The recipes are not complex to prepare
Do you know why seafood lovers are ecstatic about Korean seafood dishes? You can prepare most Korean seafood recipes without hassle in a few minutes.
Korean seafood contains minerals and vitamins that are beneficial to the body
All seafood is rich in vitamins and minerals. However, they may differ in their quantities but are essential in maintaining the health of the body. 
Check Out The 15 Most Popular Korean Seafood Dishes Today
In this section, we will enlist the most popular Korean seafood dishes that are worth trying out; they are:
Ganjang Gejang

Gaebul

Agujjim

Godeunggeo GUI

Chueotang

Haemul Pajeon

Jjambbong

Nakji bokkeum

Altang

Guljeon

Sannakji

Hoedeopbap

Chamchi Gimpab

Haemuljeon

Maeutang
1. Ganjang Gejang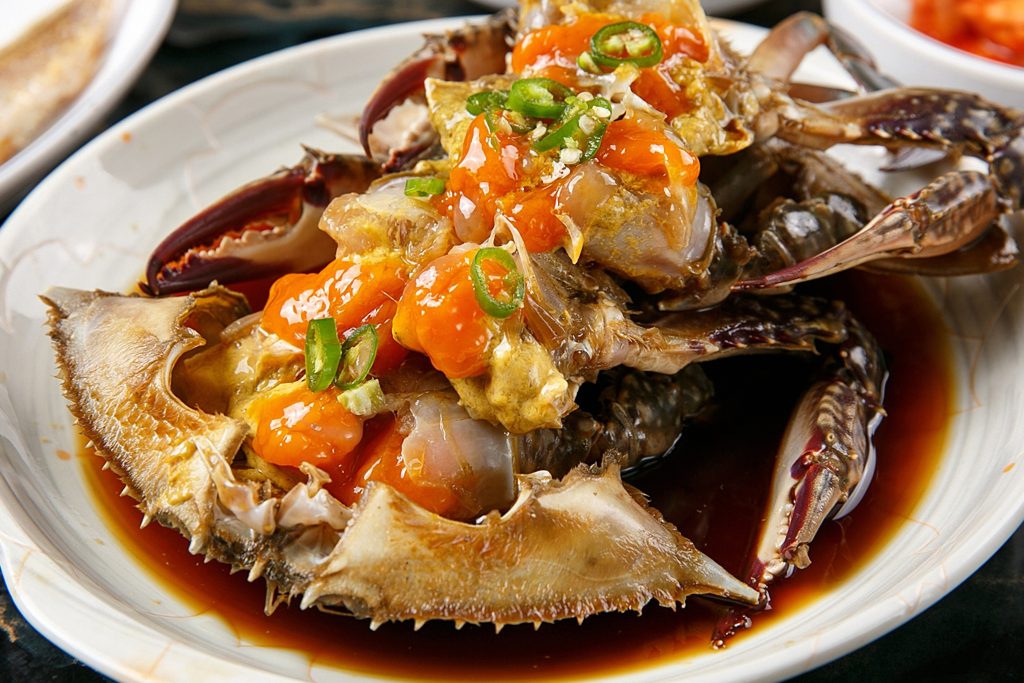 Another name for this popular Korean seafood dish is soy sauce crab. It is made from marinated fresh raw crabs placed in a concoction of soy sauce and vinegar for at least three days. The Korean seafood stew is quite addictive; little wonder Koreans call it rice thief because seafood lovers will tend to eat more rice just because of Ganjang Gejang. You can put rice in the crab shell, add soy sauce, and enjoy your meal.
2. Geabul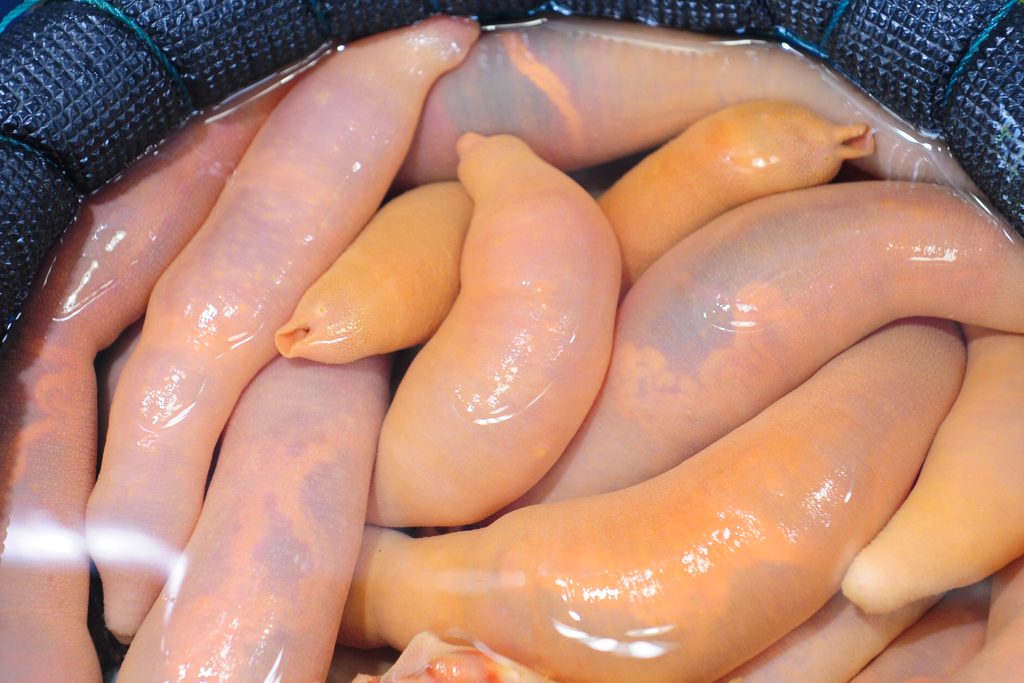 Another name for this seafood is 'the penis fish .'Gaebul is an exceptional species of seaworm that bears a semblance to a specific part of the male anatomy. Hence, it is commonly prepared as an aphrodisiac for men. 
3. Agujjim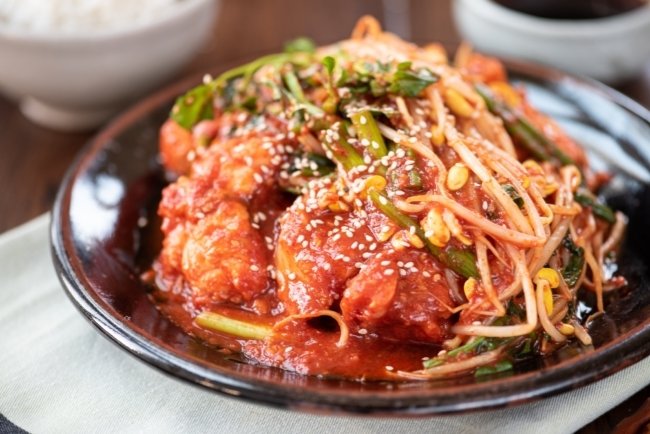 Agjjim is one of the best Korean seafood dishes you can ever taste. It is prepared from braised angler fish and added as a layer to the bed of dropworts and bean sprouts; what a delicious meal to start your day with! However, take note of the abundance of chilies in the seafood. So if you are not a chili pepper person, you should try another kind of Korean seafood.
4. Godeunggeo Gui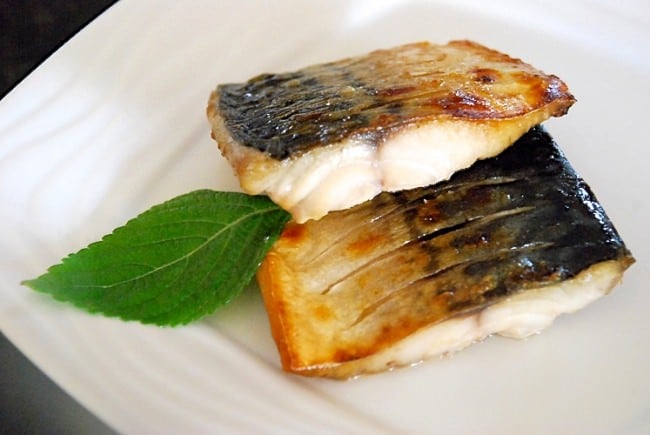 Godeunggeo Gui is an excellent source of proteins, omega-3 fatty acids, and more. This is one of the popular Korean seafood dishes that are very affordable. It is made from grilled mackerel that has been well-salted. It can be consumed alone or paired with rice.
5. Chueotang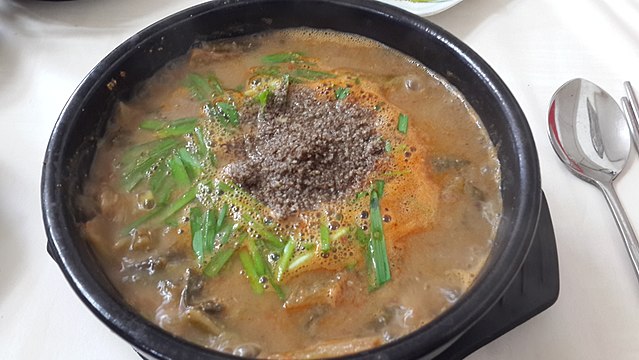 It's a popular Korean seafood stew named after its primary ingredient – chueo (freshwater mudfish). Chueotang is commonly boiled and smashed before adding various vegetables to flavor the delicious meal. Get ready to enjoy the unique texture of this seafood dish in your mouth.
6. Haemul Pajeon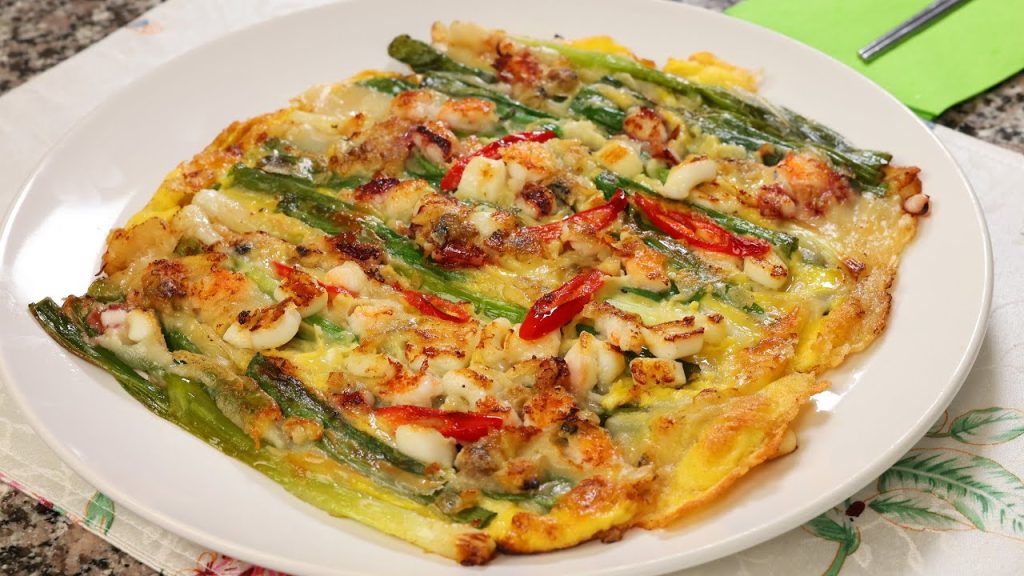 Haemul Pajeon is one of the most popular Korean seafood dishes you should take advantage of. A delicious cuisine made from a variety of shellfish and other seafood you can enjoy with family and friends. It is commonly paired with a fizzy rice wine known as makgeolli (mainly on rainy days) and savory Korean seafood pancakes. 
7. Jjambbong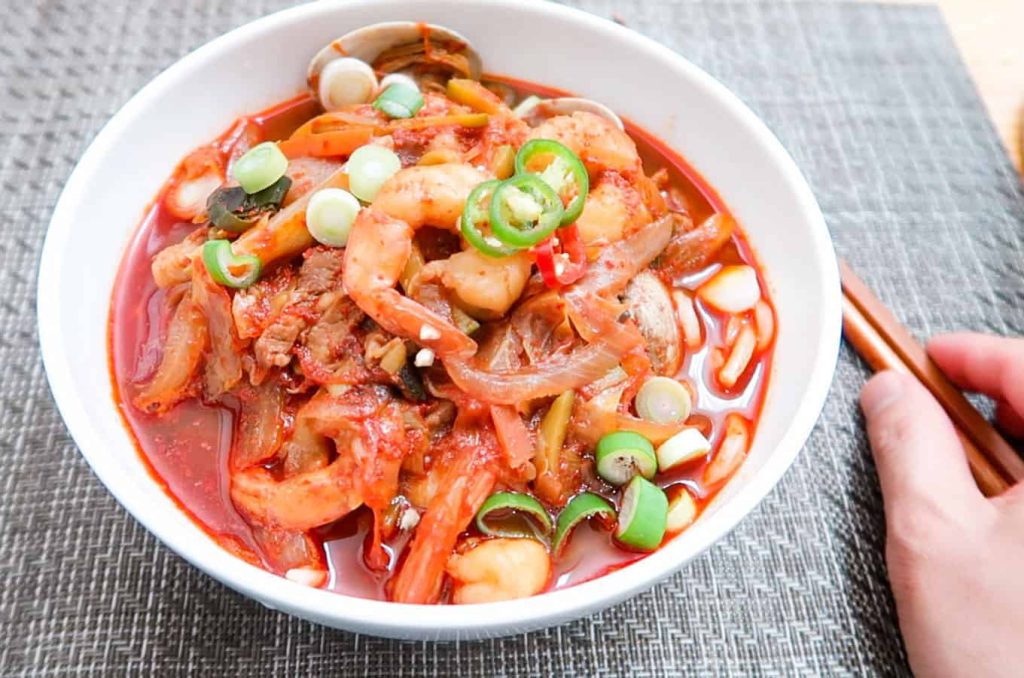 Jjambbong is another Korean seafood made from vegetables and different varieties of seafood, including squid, mussels, shellfish, and more. It is commonly served as a topping on a layer of chewy noodles that is quite spicy and flavorful. 
8. Nakji Bokkeum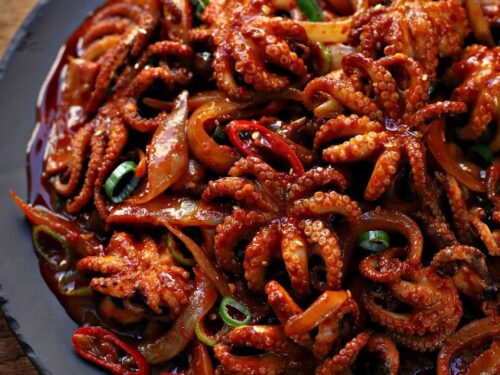 This Korean seafood is a cuisine that is commonly eaten across the country. A stir-frying octopus prepares Nakji Bokkeum with vegetables in a sauce of chili paste, chili peppers, green peppers, and chili powder. And the result is a delicious chewy octopus quelled in a thick, dark red sauce worth every bite. 
9. Altang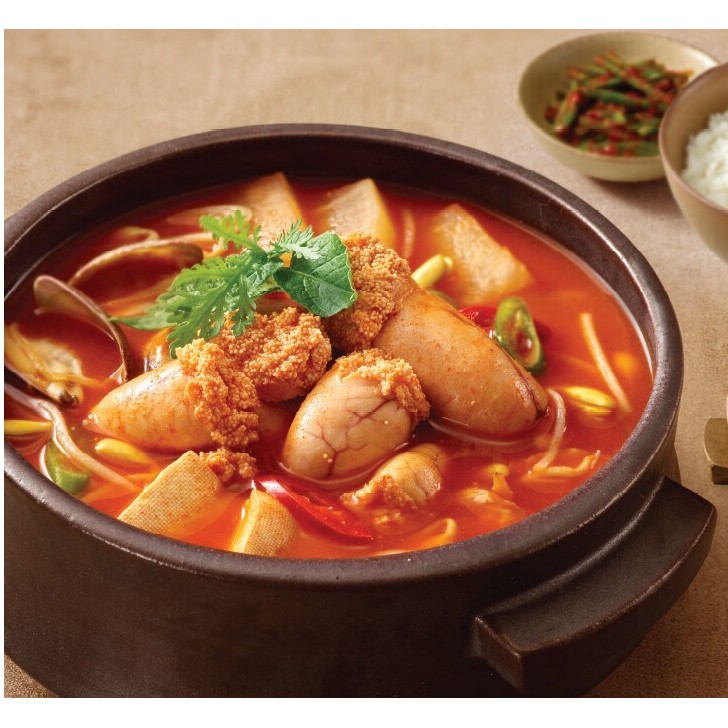 Altang is one of the Korean seafood dishes popular among Koreans for its taste and spicy flavors. The chief ingredient of this Korean seafood stew is the marinated pollack roe, popularly called myeongnan by the locals. The other ingredients include a spicy broth, scallions, beans sprouts, well-sliced daikon radish, and more. Altang can be paired with rice and soju.
10. Guljeon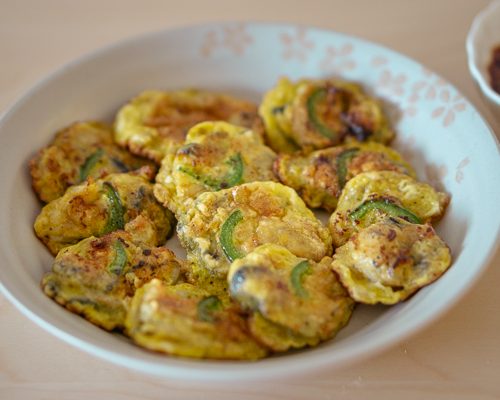 Guljeon is a popular traditional Korean seafood that has its origin in South Korea. The chief ingredient required in making this dish is oysters which are often pan-fried on both sides. The other ingredients include scallions, oil, eggs, pepper, and rice wine. Guljeon can be paired with traditionally made soju.
11. Sannakji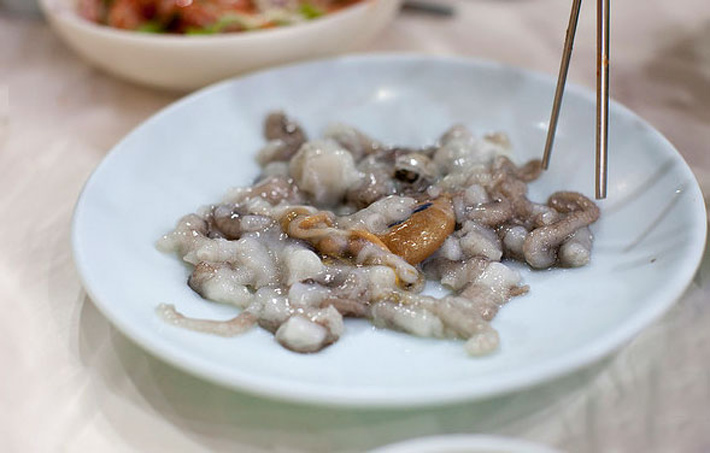 Sannakji is one of the prominent Korean seafood dishes made from chopped raw baby octopus and is served with sesame oil sprinkled all over it. Do you know that you can still see some of the chopped octopus twitching on the plate when served? Sannakji eaters often pair this seafood with ssamjang or green tea. It is a perfect combo.
12. Hoedeopbap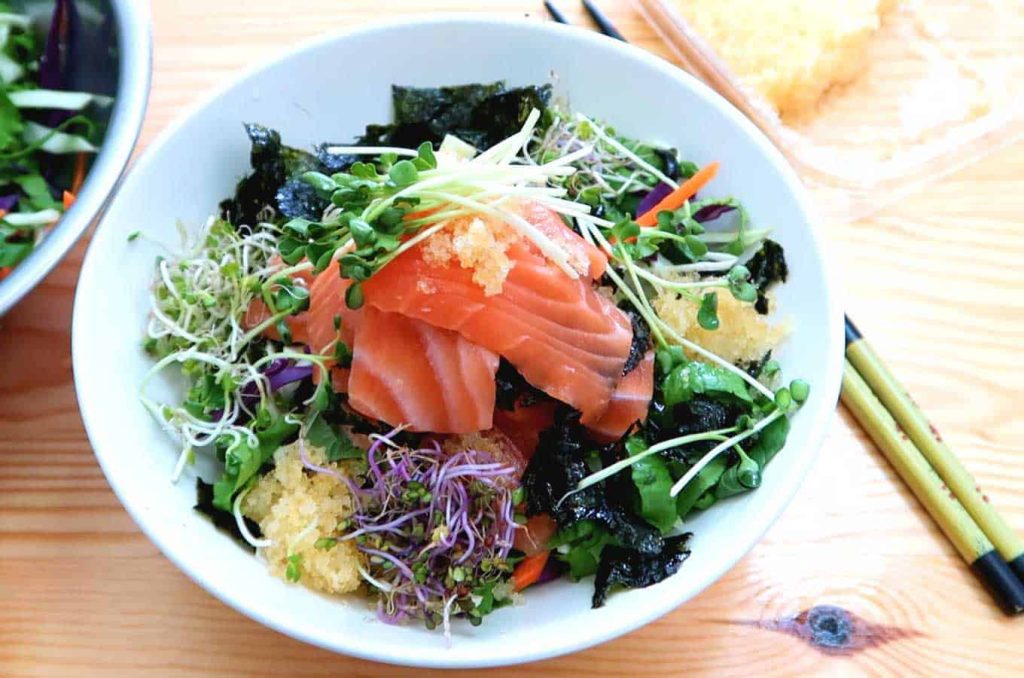 Hoedeopbab is a traditional cuisine with a bowl of rice top-layered with raw fish and freshly cut vegetables. You can use different varieties of fish, such as halibut, salmon, tuna, or sea bass (which are cut into tiny slices). The other ingredients required to make hoedeopbap are chili paste, vinegar, sugar, and garlic, forming a spicy and tasty sauce.
13. Chamchi Gimpab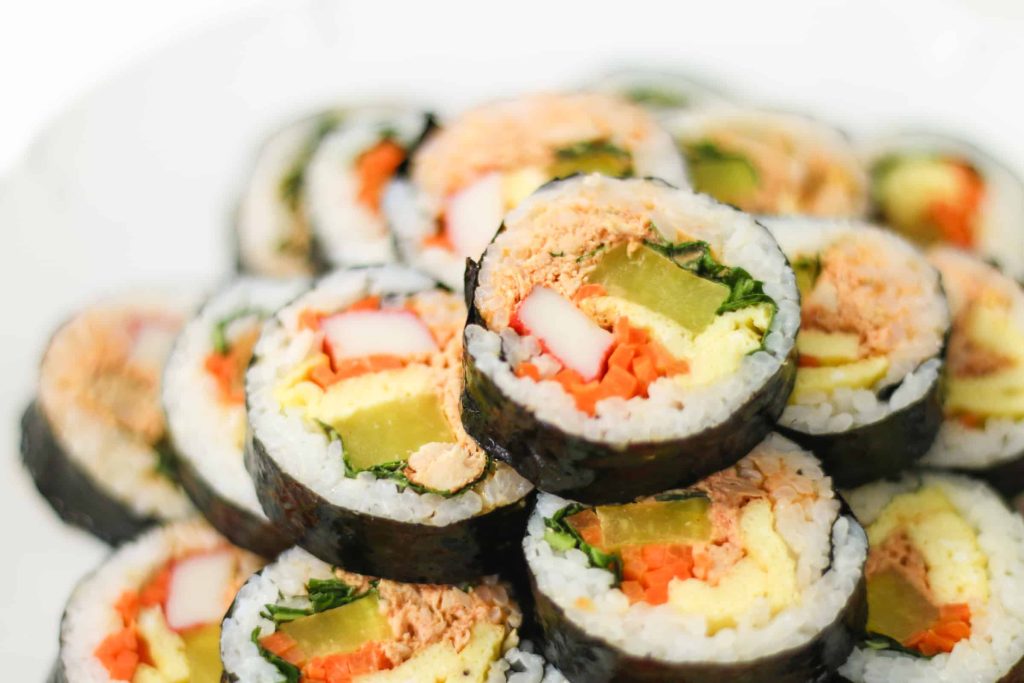 Another name for this popular Korean seafood is Korean Rice Roll, prepared with canned tuna. Most chefs prefer using rice and fish for the fillings. However, other ingredients can be used as an alternative, such as fish cakes, fresh vegetables, or eggs. The tuna is often mashed before adding mustard, mayonnaise, and spices.
Chamchi Gimpap is commonly wrapped in toasted seaweed and served in small pieces. 
14. Haemuljeon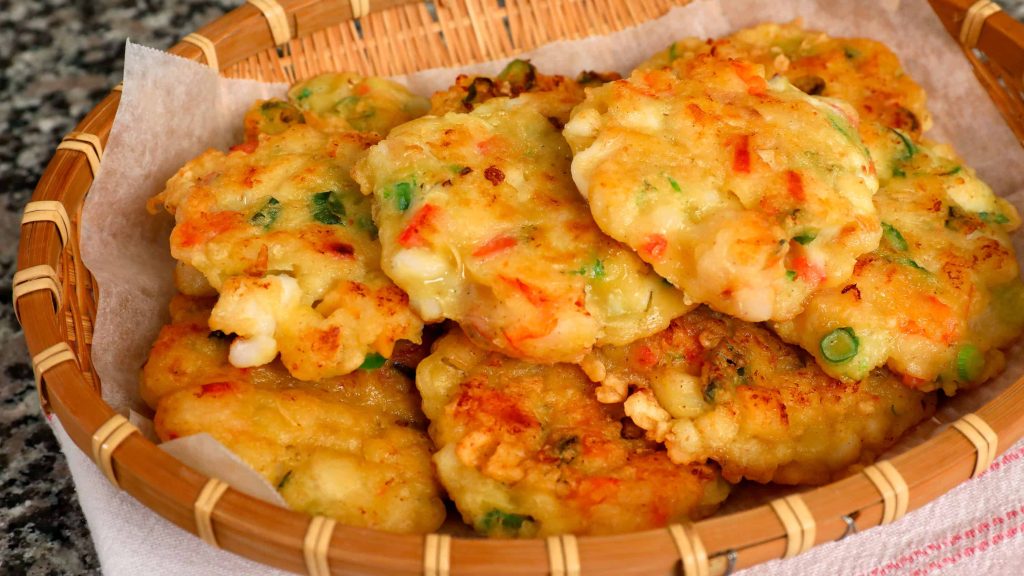 Haemuljeon is one of the famous Korean seafood dishes that originated in South Korea. This Korean seafood is a pan-fried battered cuisine made from various seafood and other ingredients such as scallions, oil, flour, and eggs. Such a variety of seafood includes oysters, squids, mussels, clams, squid, and clams.
It is traditionally served with a dipping sauce. The dipping sauce comprises red pepper flakes, soy sauce, vinegar, black pepper, and sugar.
15. Maeutang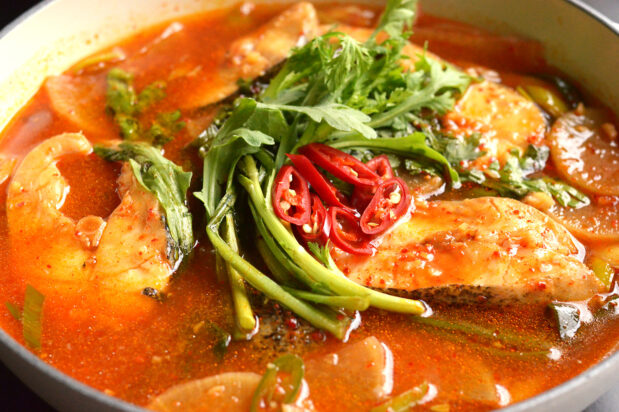 This is a popular Korean seafood stew that is commonly prepared from various freshwater water fish, such as cod, pollock, red snapper, sea bass, or monkfish. The locals prefer using an entire fish, including the head and bones, to make this stew. The ingredients used in making this dish include chili pepper flakes, chili paste, an anchovy-based broth, and fresh vegetables.
Conclusion
Aside from the beautiful sights and magnificent infrastructures, Korea is also popularly known as a home of different seafood since it is surrounded by water. So if you are searching for a country with the freshest seafood to consume and explore, visiting this country sounds like a good idea. Hence, we recommend all the Korean seafood mentioned in this article as they all contain different nutrients that greatly benefit the body.
Note that apart from the delicious Korean seafood dishes listed and discussed in the previous section, there is still other Korean seafood not mentioned here that you can still try out or prepare by yourself.